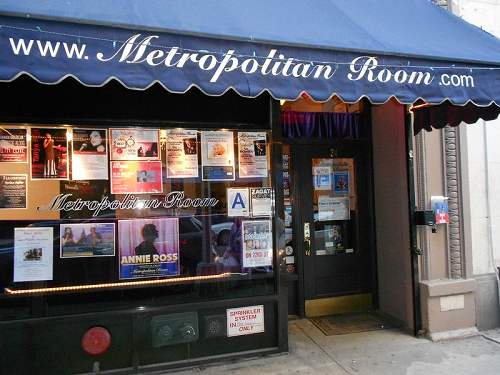 Peter Marshall: "And Then She Wrote" at the Metropolitan Room (Closed January 14, 2013)
With Denise Donatelli and Carol Weisman
Musical Direction by Carol Welsman
Reviewed by Joseph Verlezza
Theatre Reviews Limited
Peter Marshall became a household name as host of the ever popular game show Hollywood Squares. The successful turn was due in part to his multi talent as a singer and actor. He utilized his experience on Broadway and television to guide his on the spot responses and quick wit as he conversed with his celebrity guest stars. This talent cannot be more evident than in his latest cabaret show "And Then She Wrote" which played to appreciative audiences at The Metropolitan Room. Joined by Grammy nominated Denise Donetelli and Juno nominated Carol Weisman, these three artists pay homage to the contributions of woman songwriters to the American Songbook that span ten decades.
Not only are most songs easily recognizable but the vast array of style and lyric is captured with incredible skill and deft delivery. Whatever the patter, it is easy to the ear and not laborious, informative rather than trite and includes the audience by being personal and honest. The program moves quickly with sometimes a mere 16 bars of a familiar tune in order to pack over 35 songs into the 90 minute frame, but never leaves the audience unsatisfied, only wanting for more.
Vocally Mr. Marshall is smooth, articulate and soothing with a delightful tone and timeless style. Ms. Donetelli attacks each of her solos with pure tone and unequivocal control. The underlying silky, smoky layers enhance her pronounced jazz style with intensity. Ms. Weisman exhibits her immense musicianship not only with a characteristic vocal that is bold yet mellow but also with her turn tickling the ivories. She interprets the lyric with an easy understanding that captures the mood. Each contributes as solo artists and together not only do their personalities blend well but their voices become friends, sharing equally and evenly.
No one can argue that this is an enjoyable evening of songs that should never disappear from the American stage and certainly and importantly recognizes the significance of woman in music history. As an added touch this group is joined by Anne Drummond on piano and flute, and Brandi Disterheft on Bass, both displaying their talent as accomplished musicians.