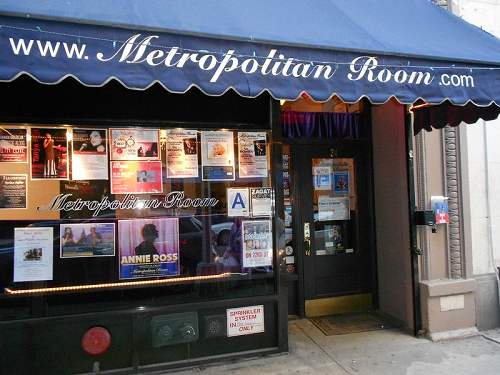 Produced by Joseph Macchia
Musical Direction by Tracy Stark
Reviewed by David Roberts
Theatre Reviews Limited

If the opportunity returns next year, plan to spend Valentine's Day at the Metropolitan Room. Make dinner reservations early in the evening and head over to the Room for dessert and drinks and experience love songs performed – as they were this Valentine's Day – with a dash of grace, and style, and panache. On this Valentine's Day, nine talented Broadway and Cabaret performers shared the love songs they cherished in "It's Only Love" – An Evening of Broadway Love Songs."
Danny Bolero, Bernard Dotson, and Tom Gamblin – whose "Boys Night Out" played at the Metropolitan Room in January 2013 – performed solo songs. Danny Bolero (Cast of "In the Heights" and "Joseph and the Amazing Technicolor Dreamcoat") sang "All I Ask of You" and delivered a tour de force rendition of John Kander's comedic "Sara Lee." Tom Gamblin (Cast of the National Tours of "Titanic" and "Starlight Express") conveyed heartfelt and sweet renditions of Nina Simone's "What More Can I Say" and what Tom describes as the greatest Broadway song "If I Loved You" from "Carousel" (Rogers and Hammerstein). And Bernard Dotson (Cast of "Chicago," "Dreamgirls" and "Sweet Smell of Success") showcased his perfect phrasing in Alicia Keys' "Fallin'" and in his duet with Broadway producer Alison Eckert "One Hand One Heart" from "West Side Story" (Arthur Laurents/Leonard Bernstein).
Will Perez delivered crisply beautiful versions of "She Was There" from "The Scarlet Pimpernel" (Frank Wildhorn/Nan Knighton) and "He Touched Me." Liz McEndry (Cast of "The Producers") gave solid emotional substance to the prayerful "Make the Man Love Me" from the 1951 musical production "A Tree Grows in Brooklyn" (D. Fields and A. Schwartz).
Romelda Teron Benjamin (Cast of "Brooklyn" and the 2004 ATA production of "Bare") gave new meaning to sultry in her powerhouse performances of "The Man That Got Away" (Harold Arlen/Ira Gershwin) and "Bring on the Men" (Frank Wildhorn/Leslie Bircusse). And Musical Director and six time MAC Award winner Tracy Stark, who accompanied each performer with sensitivity and style, sang "a song she wrote on the beach" – her 2006 award-winning "Camera."
It was an honor to share the commitment and passion and craft of these singer-actors-dancers (and producer) who took the time to share their songs of love in the most loving ways. Bravo and thank you.