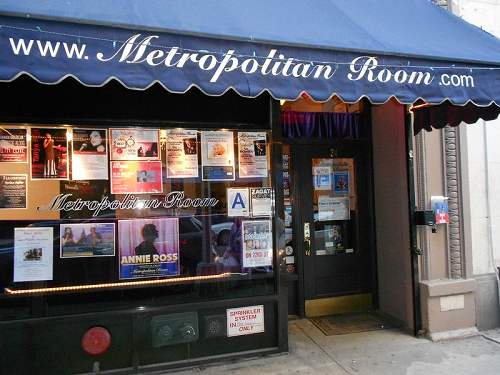 Reviewed by David Roberts
Theatre Reviews Limited

Monday May 13th marked the first anniversary of "Broadway on 22nd," the now annual star-studded Cabaret Series produced by Joseph Macchia at the iconic Metropolitan Room. This Series gives Broadway performers the opportunity to share their craft in a cabaret setting and gives the audience the opportunity to see some of their favorite stars in a more intimate and interactive setting. The audience heard performers from "Brooklyn," "The Lion King," "In the Heights," "The Producers," Dreamgirls," Finian's Rainbow," "Imaginary Friends," "Sweet Smell of Success," "Jesus Christ Superstar," "Ragtime," "Chicago," and others. The assembled talent almost begged belief.
This year's event included stellar performances by Romelda Teron Benjamin ("Time Heals Everything") including a duet with Jared Joseph ("Ain't No Mountain High Enough"); Gabriel Croom ("Sway"); Quinn M. Bass ("Feelin' Good" and a track accompanied "You'll Never Walk Alone"); Blanca Camacho ("Broadway Baby" and "Let's Call the Whole Thing Off"); Liz McKendry ("Take Your Time Like Betty Crocker" and "Here Alone"); Bernard Dotson ("Don't Let the Sun Catch You Crying); Tony Chiroldes ("Piragua" and "Only Heaven Knows"); Will Perez ("Audition Medley"); Kwame Remy ("Mr. Bojangles" and "I Was Born the Day before Yesterday"); and Eric Michael Gillett ("I Was Here" ).
Although it is difficult (and perhaps unnecessary) to single out any performer among these captivating and engaging performances, this critic was especially appreciative of Romelda Teron Benjamin's and Jared Joseph's phrasing and rich tones; Gabriel Croom's swaggy "Sway;" Blanca Camacho's self-effacing and hilarious renditions of "Broadway Baby" and "Let's Call the Whole Thing Off;" Liz McKendry's soulful and haunting rendition of "Here Alone;" Kwame Remy's interpretation of Jerry Jeff Walker's "Mr. Bojangles;" and Bernard Dotson's spot on and inventive styling in his brilliant interpretation of "Don't Let the Sun Catch You Crying."
All of these performances speak of life's vicissitudes and energize the audience to "jump high" and "click the heels" of its collective soul.