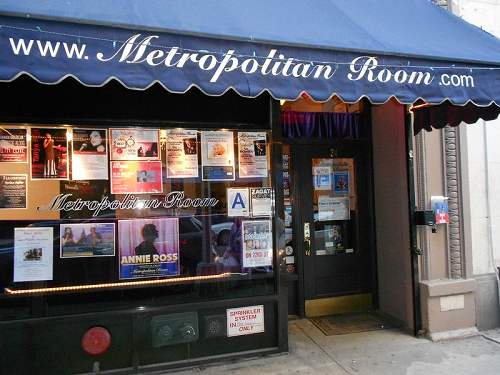 "Boys Night Out: The Music of the Rat Pack" at the Metropolitan Room (Closed January 21, 2013)
With Danny Bolero, Bernard Dotson and Tom Gamblin
Directed by Joseph Macchia
Reviewed by David Roberts
Theatre Reviews Limited

The group of actors known as The Rat Pack has a long history from the early days (1960's) of Humphrey Bogart and Lauren Bacall until the 1980's when three of the members (Martin, Davis, and Sinatra) appeared together for the last time in film in "Cannonball Run II" and the same trio staged their ill-fated revival tour which ended after only four performances. Whichever configuration of the pack one identifies with, the one most familiar to audiences and fans is the one celebrated in "Boy's Night Out: The Music of the Rat Pack:" Frank Sinatra, Dean Martin, and Sammy Davis, Jr.
Under Joseph Macchia's direction and accompanied by Track Stark, stage veterans Danny Bolero, Bernard Dotson, and Tom Gamblin pay homage to the three crooners by performing from the repertory that made Sinatra, Martin, and Davis famous and sought after by an eclectic group of followers and admirers. Each vocalist has moments which stand out and when they perform together the synergy is remarkable.
Tom Gamblin sports inventive phrasing in "Everybody Loves Somebody Sometime" (S. Coslow, I. Taylor, and K. Lane) and tight vocal control in "The Tender Trap" (J. Van Heusen, S. Cahn). Danny Bolero connects smoothly to "Sway" (Pablo Beltran Ruiz) giving it the proper mambo beat it requires. And Bernard Dotson provides the stand-out lead in the memorable "Gonna Build a Mountain" (Anthony Newley, Leslie Bricusse) and pays tribute to Sammy Davis, Jr. in his rendition of "Mr. Bojangles" (Jerry Jeff Walker).
What makes "Boys Night Out" remarkable is embedded in the name of the show itself. Bolero, Dotson, and Gamblin have a great deal of fun with their songs, with each other, and with their audience. Their patter and humor are inclusive, fresh, and relevant. Equally as important is the gift they proffer of the songs of a pack of talented singers and actors who will never be forgotten. These "boys" engage perfectly with an appreciative audience and this is, after all, the hallmark of good entertainment.